so lets check it out!!!!
Spoiler for juru kunci:
10. Beaches
Beaches (AKA Forever Friends), is a 1988 Academy Award-nominated movie adapted by Mary Agnes Donoghue from the novel of the same name by Iris Rainer Dart. It was directed by Garry Marshall, and stars Bette Midler, Barbara Hershey, John Heard, James Read, Spalding Gray, Lainie Kazan, Mayim Bialik and Marcie Leeds.
Spoiler for kesembilan:
9. Schindler's List
Schindler's List adalah film 1993 berdasarkan novel Schindler's Ark karya Thomas Keneally, yang diterbitkan di Amerika Serikat dengan judul Schindler's List dan kemudian diedarkan kembali di negara-negara Persemakmuran dengan judul itu pula. Filmnya, yang diadaptasi oleh Steven Zaillian dan disutradarai oleh Steven Spielberg, mengisahkan riwayat Oskar Schindler, seorang pengusaha Katolik Jerman yang berperan dalam menyelamatkan nyawa lebih dari seribu orang Yahudi Polandia pada masa Holocaust. Judulnya merujuk kepada daftar nama dari 1.100 orang Yahudi yang dipekerjakan Schindler di pabriknya dan karenanya tidak dikirim ke kamp-kamp konsentrasi.
Spoiler for kedelapan:
8. Savior
Savior is a 1998 war film starring Dennis Quaid, Stellan Skarsgård, Nastassja Kinski, and Nataša Ninković. It is about an American mercenary escorting a Serbian woman and her newborn child to a United Nations safe zone during the Bosnian War.
Spoiler for ketujuh:
7. Grave of the Fireflies
Grave of the Fireflies (火垂るの墓, Hotaru no Haka?) is a 1988 animated film written and directed by Isao Takahata. This is the first film produced by Shinchosha, who hired Studio Ghibli to do the animation production work. It is an adaptation of the semi-autobiographical novel of the same name by Akiyuki Nosaka, intended as a personal apology to the author's own sister.
Roger Ebert considers it to be one of the most powerful anti-war movies ever made. Animation historian Ernest Rister compares the film to Steven Spielberg's Schindler's List and says, "it is the most profoundly human animated film I've ever seen
Spoiler for keenam:
6. The Pursuit of Happyness
The Pursuit of Happyness is a 2006 American biographical drama film, directed by Gabriele Muccino and based on the true story of Chris Gardner. The film stars Will Smith as Gardner, an on-and-off-homeless salesman-turned stockbroker.
The screenplay by Steven Conrad is based on the eponymous best-selling memoir written by Gardner with Quincy Troupe. The film was released on December 15, 2006, by Columbia Pictures. For his performance Smith received an Academy Award nomination for Best Actor and a Golden Globe nomination.
Spoiler for kelima:
5. The Bridge To Terabithia
ridge to Terabithia is a 2007 fantasy drama film directed by Gábor Csupó and adapted for film by David L. Paterson and Jeff Stockwell. The film is based on the Katherine Paterson novel of the same name, and distributed by Walt Disney Pictures in the US. The film stars Josh Hutcherson, AnnaSophia Robb, Robert Patrick, Bailee Madison and Zooey Deschanel. Bridge to Terabithia tells the story of Jesse Aarons and Leslie Burke, twelve-year-old neighbors who create a fictional world called Terabithia and spend their free time together in an abandoned tree house.
Spoiler for keempat:
4.A Walk to Remember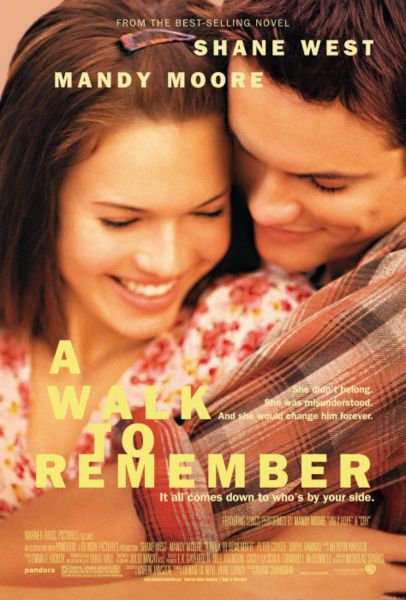 A Walk to Remember adalah sebuah film 2002 film dengan seting pertengahan tahun 1990an di Beaufort, North Carolina. Film ini berdasarkan dari novel tahun 1998 yang ditulis oleh Nicholas Sparks. Film ini dibintangi oleh Mandy Moore dan Shane West. Film ini disutradarai oleh Adam Shankman dan diproduksi oleh Denise DiNovi dan Hunt Lowry untuk Warner Bros. Pictures.
Spoiler for ketiga:
3.The Green Mile
The Green Mile is a 1999 American drama film directed by Frank Darabont and adapted by him from the 1996 Stephen King novel of the same name. The film stars Tom Hanks as Paul Edgecomb and Michael Clarke Duncan as John Coffey.
The film is primarily about Paul and his life as a corrections officer on Death Row in the 1930s. The movie is told in flashback by the protagonist in a nursing home and follows a string of supernatural events upon the arrival of John, a man convicted, but not guilty, of murder.
Spoiler for kedua:
2.The Notebook
The Notebook is a 2004 United States romantic drama film directed by Nick Cassavetes, based on the novel of the same name by Nicholas Sparks. The film stars Ryan Gosling and Rachel McAdams as Noah and Allie, a young couple who fall in love during the early 1940s. Their story is narrated from the present day by an elderly man played by James Garner, telling the tale to a fellow patient, played by Gena Rowlands.
Spoiler for pertamaxxx:
1. Titanic
Titanic is a 1997 American disaster/romantic/drama film directed, written, co-produced, and co-edited by James Cameron about the sinking of the RMS Titanic. It stars Leonardo DiCaprio as Jack Dawson and Kate Winslet as Rose DeWitt Bukater, two members of different social classes who fall in love aboard the ill-fated maiden voyage of the ship. The main characters and the central love story are fictional, but some characters (such as members of the ship's passengers and crew) are based on historical figures. Gloria Stuart portrays the elderly Rose, who narrates the film in a modern day framing device, and Billy Zane stars as Cal Hockley, the overbearing fiancé of Rose's younger self.